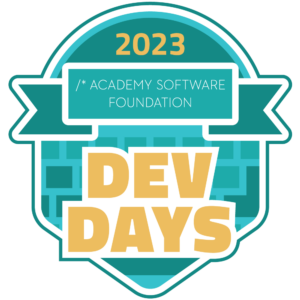 The Academy Software Foundation is excited to announce our newest event: Dev Days, a 48-hour global event encouraging developers of all experience levels to learn more about our open source projects, connect with mentors and project leads, and of course, write code!
Dev Days will take place virtually on October 12-13, with participating projects including MaterialX, OpenColorIO, OpenImageIO, OpenEXR, and the Open Review Initiative. The event is specifically designed for developers who may be new to the open source space, or to the entertainment industry. The Academy Software Foundation's projects all play a critical role in many of the industry's visual effects and animation pipelines, and we look forward to fostering new involvement in this thriving open source community.
We encourage interested developers to learn more about each participating project and some their requested tasks by clicking on the links above, and to register for Dev Days here. Participants should prepare to dedicate approximately one working day (roughly eight hours) within the 48-hour period; the Foundation's current project contributors are based all around the world and will be able to provide support across time zones. Participants should have familiarity with the programming language used in their project(s) of choice, but no prior experience with the Academy Software Foundation is necessary.
In addition to coding, Dev Days will be a valuable networking opportunity for developers. Confirmed studios and software vendors participating in Dev Days include Industrial Light & Magic (ILM), Lucasfilm, Sony Pictures Imageworks, DreamWorks Animation, Wētā FX, Walt Disney Animation Studios, and Autodesk, with more to come.
Interested developers are also invited to join the #devdays slack channel on the ASWF Slack instance.