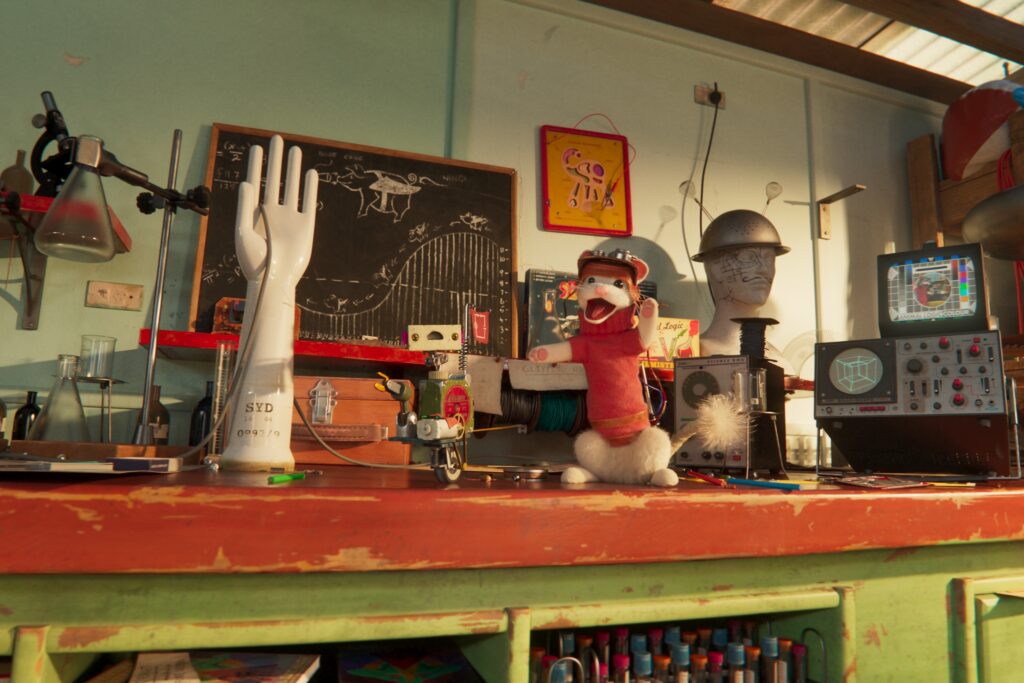 Copyright 2022 Animal Logic Pty Limited. All rights reserved.
One of the Academy Software Foundation's fastest-growing Working Groups has been the USD Working Group, co-chaired by Pixar's Nick Porcino and Apple's Alexander Schwank. OpenUSD, short for Universal Scene Description, was developed by Pixar to address common workflow challenges and reduce complexity when working with multiple content creation packages. OpenUSD is the first open source software focused on studio and industry scaled interchange or composed scenes containing many different assets, sources, and animations, all while fostering highly collaborative workflows.
Working closely alongside Pixar, the Academy Software Foundation's USD Working Group is a place for the broader visual effects, animation, and game development communities to communicate and assist in industry-wide USD adoption efforts, but it has evolved to reach a diverse range of industries including video games, GIS (geographic information systems), architecture, digital twins, simulation, education, exhibition, and more.
Now up to a whopping 800 members and counting, the USD Working Group illustrates the vast potential of open source to bring different communities together to share ideas, lessons, and to uncover common goals. The group mainly focuses on consolidating and sharing best practices for the deployment of USD technologies, and providing vetted solutions for common issues raised in USD support channels.
A new addition to the USD community is the Alliance for OpenUSD (AOUSD), an open, non-profit organization dedicated to fostering the standardization, evolution, and growth of OpenUSD to promote interoperability of 3D content. The Academy Software Foundation's USD Working Group will liaise with AOUSD to represent the interests, ideas and techniques developed by the USD WG's active, vibrant community. This relationship between the USD Working Group and AOUSD demonstrates the Academy Software Foundation and the USD Working Group's continued commitment to create a thriving USD ecosystem for the motion picture industry and beyond.
To hear more about AOUSD, register to attend the Academy Software Foundation's Open Source Days Main Program on August 6th, which will feature a keynote panel session on Towards 3D Interoperability With Universal Scene Description (OpenUSD) at 1:30 p.m. PT. Both in-person and virtual options are available.
To find out more about the Foundation's USD Working Group, join the USD Working Group Virtual Town Hall on Wednesday, August 16, 1:00 – 3:00 pm PT. Working Group leaders will share an update on the group's activities and milestones. In the meantime, here's an overview on the USD Working Group's subgroups, which formed organically based on specific member interests:
USD Assets [Slack channel]: This subgroup aims to provide onboarding guidance, reference materials, and test assets to help users better understand USD and how to integrate it productively, thereby making the entire ecosystem more reliable. Their contributions include a combination of written guidance, full test assets that accurately represent real-world complexity and small test assets for tools. This subgroup is led by Jeremy Cowles.
USD Camera [Slack channel]: Addressing challenges in virtual production, visual effects, and animation, this subgroup is working to streamline the application of real-world camera metadata and physical parameters to a CG camera framework built on USD. They collaborate closely with both the American Society of Cinematographers (ASC) and the Visual Effects Society (VES) Tech Committee, as well as camera and lens manufacturers, to build a broad industry consensus of on-set needs. This subgroup is led by Michael Min.
USD Games [Slack channel]: Members with game development backgrounds formed this subgroup to improve the use of the USD format in games, from source content and assets to game engine integration, ultimately creating more bi-directional workflows. One notable results include  Remedy Entertainment's Book of USD published on Github, a thorough primer on USD for the games community, and an FBX plugin for USD that allows robust migration of FBX based asset workflows to USD. This subgroup is led by Francois Devic and Thomas Trently.
USD MaterialX [Slack channel]: This subgroup works closely with the Academy Software Foundation's main MaterialX project to ensure interoperability between MaterialX and USD. Thanks to their efforts, MaterialX is available by default when building OpenUSD. This integration can be explored in the Chess Set sample and the new Shader Ball reference asset. This subgroup is led by Orn Gunnarsson and Ashwin Bhat.
USD Web Visualization [Slack channel]: As our world becomes ever more interconnected, this subgroup is exploring solutions and best practices to more easily author, share, and consume USD. For instance, by converting OpenUSD to WebAssembly (Wasm) for execution on the web, consumers can experience the rich benefits of USD firsthand. To showcase this work, Autodesk published a package of demos on Github showing fully functional USD for the web – including Pixar's famous kitchen scene running in a web browser – which has been a great jumping off point for the community to engage in this topic even further. This subgroup is led by Phil Sawicki and Roman Zulak.
Want to learn more and find out about getting involved? Join the Academy Software Foundation's Slack channel, or attend a USD Working Group meeting (every other Wednesday), and jump right in!