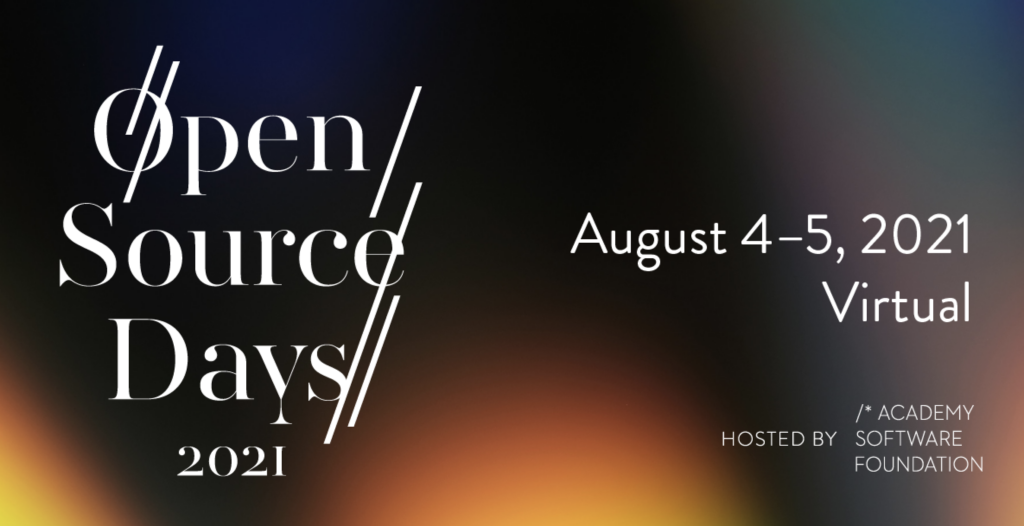 Los Angeles, CA (July 21, 2021) – The Academy Software Foundation (ASWF) has announced an exciting slate of speakers for Open Source Days, its annual free virtual conference, taking place August 4-5. Attendees will hear from top executives from the Academy of Motion Pictures Arts & Sciences, ILM, NBCUniversal, Netflix, and many more as they share updates on popular open source projects establishing standards and best practices in visual effects, animation, and image creation. Attendees will have the opportunity to engage directly with the broader ASWF community to explore areas of innovation, network, and participate in live Q&As.
Programming highlights include the sessions below, as well as sessions diving into the latest updates and roadmaps on ASWF projects such as OpenColorIO, OpenCue, OpenEXR, OpenTimelineIO, OpenVDB, Open Shading Language, and MaterialX.
Open Source Fireside Chat
Speakers: Jenny Wagner (Director of Programs, LF Public Health), David Wheeler (Director of Open Source Supply Chain Security, Linux Foundation), Rob Bredow, SVP, Executive Creative Director and Head of ILM,  Ruth Suehle, (Community Outreach, Open Source Program Office at Red Hat), moderated by David Morin (Executive Director, ASWF)
Open source touches all facets of daily life, from entertainment to energy to public health, and more. The motion picture industry relies heavily on open source software to create cinematic masterpieces, but that just scratches the surface of the larger open source ecosystem. In this fireside chat we will hear from open source experts on its impact across industries, as well as universal challenges such as security and supply chain vulnerabilities.
ASWF Member Panel
Speakers: James Jeffers (Sr. Director, Advanced Rendering and Visualisation at Intel Corporation), Doug Walker (Senior Principal Software Developer at Autodesk), Jennifer Goldfinch (Director of Industry Marketing at Foundry) moderated by David Morin (Executive Director, ASWF)
Vendor neutrality, stability for the technology we rely on, networking opportunities with change-makers, access to tools and resources – these are all benefits of open source foundations. The Academy Software Foundation, which has been around for about three years, is no different. In this keynote panel, we'll hear from ASWF members about why they have joined and continue to participate in the Foundation. We'll hear about the early days of the ASWF, the progress that's been made and the endless possibilities for the future across this rapidly changing landscape.
[OpenEXR] Project Update 
Speakers: Cary Phillips (Industrial Light & Magic), Kimball Thurston (Weta Digital), Joseph Goldstone (ARRI), Alban Fichet (Charles University)
This session will provide an update on the OpenEXR project, including: an overview of the 3.1 release of OpenEXR and Imath, new high-performance C-language IO core, provided initially as an API extension, optimized half-to-float/float-to-have conversion, discussion of standard optional attributes and default metadata conventions, discussion of storage of spectral image data.
Charting a Vibrant and Open Plan for ACES 2.0 and Beyond
Speakers: Annie Chang (ACES NBCUniversal), Alex Forsythe (Academy of Motion Picture Arts & Sciences)
ACES is a widely adopted, free, and open color and digital file management system used in motion pictures, television and many other motion and still media productions. With the upcoming release of v2.0, ACES will have reached an important milestone by addressing many of the key issues users requested since its original launch. ACES project leaders will discuss the latest developments and engage session participants in a dialog to ensure that ACES evolves as a vibrant, sustainable, and freely available system.
One Year of Diversity & Inclusion Focus in the ASWF
Speakers: Rachel Rose (ILM), Carol Payne (Netflix), Karen Ruggles (DeSales University)
This panel will reflect on the first year as an official ASWF working group. Join us to discuss what we accomplished in our first year of programming and outreach initiatives, what we learned, and what we're looking forward to in the future.
[Assets Working Group] Update on ASWF Asset Repository 
Speaker: Michael B. Johnson (Apple)
ASWF's Assets Working Group has been developing a licence for production grade assets, to be used for testing and demos, to help the industry better validate software used in the film industry. Join this talk to learn more about the valuable work the Assets Working Group is doing and the impact being made.
[OCIO] Consistent Color Management for VFX & Animation Pipelines 
Speakers: Doug Walker (Autodesk), Patrick Hodoul (Autodesk), Carol Payne (Netflix), Michael Dolan (Epic Games)
OpenColorIO (OCIO) is a color management solution for creating and displaying consistent images across multiple content creation applications during visual effects and animation production. It has been used on countless feature films and across the media & entertainment industry for over a decade. This session will provide an overview of the latest OpenColorIO development, including a look at changes in OCIO 2.1.0, progress from the ongoing ACES config and UX working groups, and Q&A.
For the latest information on Open Source Days and to register, visit: https://events.linuxfoundation.org/open-source-days/
About Academy Software Foundation
Developed in partnership by the Academy of Motion Picture Arts and Sciences and the Linux Foundation, the Academy Software Foundation was created to provide a world-class home for open source software developers in the motion picture and broader media industries to share resources and collaborate on technologies for image creation, visual effects, animation and sound. The Academy Software Foundation is home to OpenVDB, OpenColorIO, OpenEXR, OpenCue, OpenTimelineIO, and Open Shading Language. For more information about the Academy Software Foundation, visit https://www.aswf.io. 
# # #