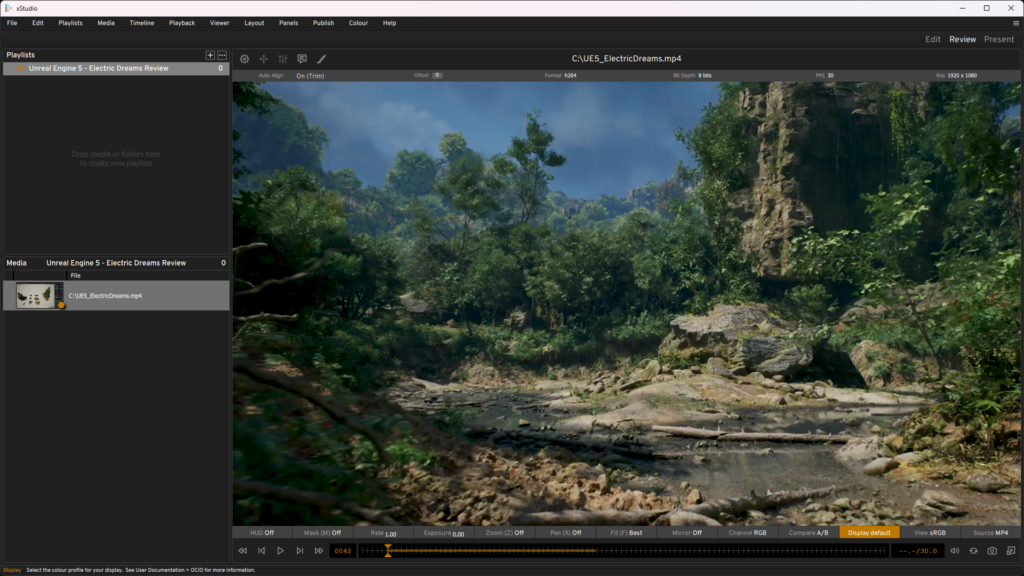 Epic Games, creator of Fortnite and Unreal Engine, has teamed up with Ahead, innovation studio and creator of Cezanne Studio, to build the open source Windows port of xSTUDIO, available now on GitHub. Designed by visual entertainment services company DNEG, xSTUDIO is a modern, flexible and feature-rich playback and review application that was contributed to the Academy Software Foundation as an open source project in early 2023 to meet the needs of content creators throughout the production process. Initially open sourced for Linux, this release marks the first step to make xSTUDIO a cross-platform solution for the open source community, and to extend xSTUDIO as a candidate for deployment as a playback and review solution across workflows.
xSTUDIO has been carefully engineered to meet the diverse needs of a broad range of review scenarios, whether on set, in the office, in remote reviews or across teams of connected users. Heavily customizable, xSTUDIO can be used as a standalone player or be integrated into any pipeline via plugins and Python scripting APIs.
The collaboration between Epic and Ahead on the Windows port signals the ongoing evolution and broader adoption of xSTUDIO, which is a part of the Academy Software Foundation's Open Review Initiative (ORI), an umbrella project working to build a unified open source toolset for playback, review and approval of motion picture and related professional media. Both Epic and DNEG are founding members of the Academy Software Foundation, while Ahead is an active contributor to open source and released the OpenAnnotationIO project in 2020.
"Accelerating the development of open standards and investing in open source software is foundational to building the open metaverse," said Sebastien Miglio, VP of Product Management and Engineering at Epic Games. "We are thrilled to contribute the Windows port of xSTUDIO to the open source community and, by extension, to all creators and storytellers."
"We are grateful for the opportunity Epic has given us to actively contribute to the expansion of a unified open source playback and review workflow," said Alex Santo, founder of Ahead. "Our mission is to lend a hand to transform xSTUDIO into an even more feature-rich powerhouse allowing creatives across different communities to share their ideas, annotations and reviews. We're looking forward to collaborating with other studios to build new functionalities. We're thrilled to work towards reaching this objective of the Academy Software Foundation's Open Review Initiative."
"The vision for xSTUDIO from the outset was to create a tool that enables seamless collaboration for everyone working in the media creation industries," said Chas Jarrett, Creative Director, DNEG. "Following DNEG's release of xSTUDIO as an open source project, the open source Windows port from Epic Games and Ahead is the next step in sharing this modern, flexible, and feature-rich application with a wider community of content creators. I am delighted to see the increased adoption of xSTUDIO as a common playback and review toolset across industries, and its success is testament to the hard work and dedication of the talented developers in DNEG's technology team."
"We are excited to see xSTUDIO expand thanks to the combined development efforts of DNEG, Epic, and Ahead," said Erik Strauss, Chair of the Academy Software Foundation's Open Review Initiative and Director of Production, Unreal Engine at Epic Games. "Bringing xSTUDIO to the Windows platform unlocks new communities of users across multiple industries and is a welcome addition as we continue to grow the open source review ecosystem."
The open source code for xSTUDIO is available now on GitHub: github.com/AcademySoftwareFoundation/xstudio and information about the application's features and capabilities are available at dneg.com/xstudio.
Software engineers, developers and users interested in learning more or getting involved are invited to attend the Academy Software Foundation's annual Open Source Days event, which includes a new Virtual Town Hall Series leading up to the Main Program taking place in-person and virtually on August 6 in Los Angeles.
Attend the next xSTUDIO sessions during Open Source Days:
Sunday, August 6, 5:10 PM PT: "Making xSTUDIO a Cross-Platform Reality"
Presentation during the Open Source Days Main Program. Register to attend in-person or virtually here.
xSTUDIO sessions during SIGGRAPH:
Sunday, August 6, 3:45 PM PT: "xSTUDIO: An Open Source Playback and Review"
Application here. 
Monday, August 7, 3:00 PM PT: "xSTUDIO Community Birds of a Feather"
Details available here.
Additional information on xSTUDIO is also available via dneg.com/xstudio, the ASWF Open Review Initiative Slack channel and the Open Review Initiative mailing list. To express an interest in collaboration opportunities or to find out more about xSTUDIO, contact xstudio-info@dneg.com.