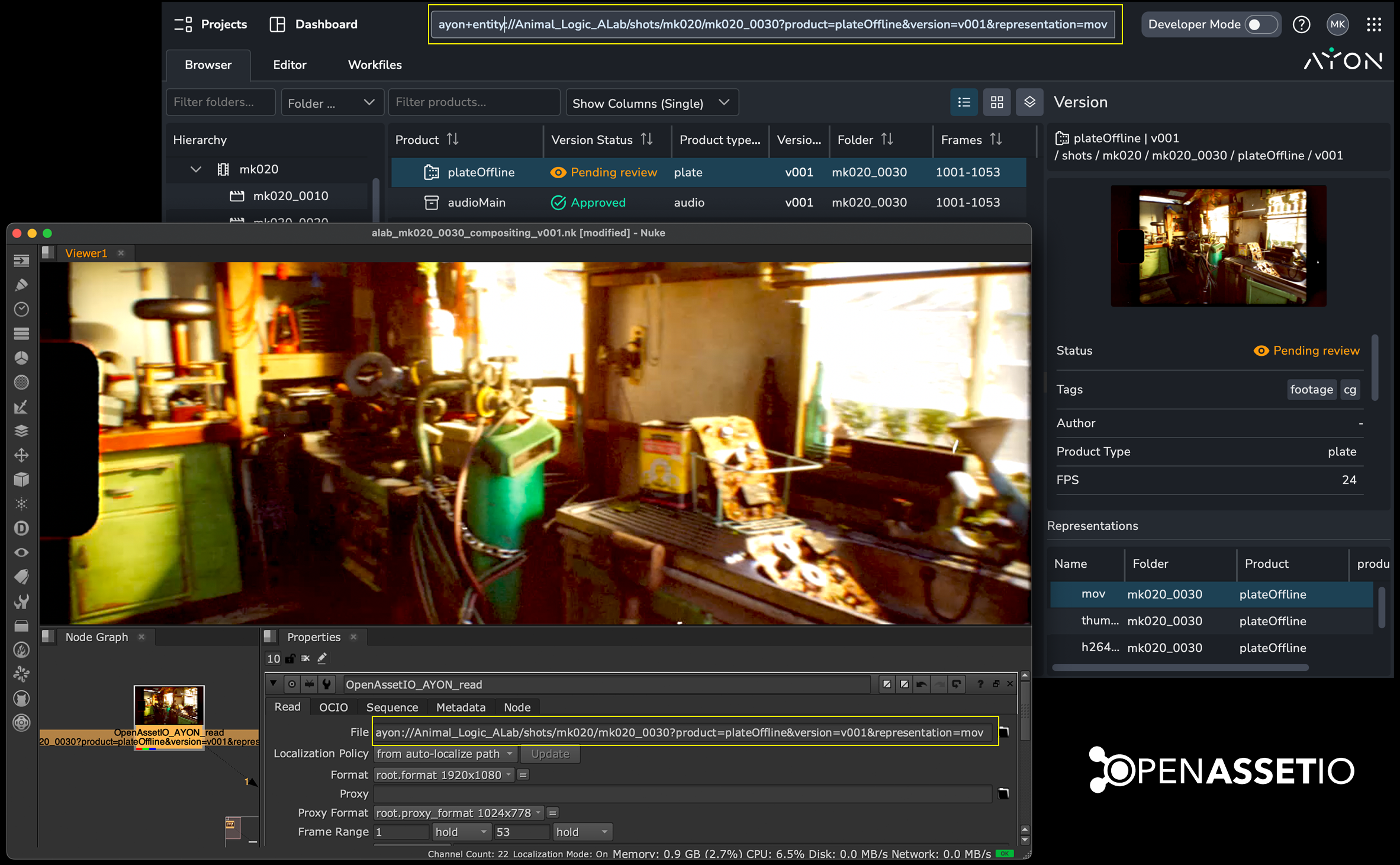 Image caption: An image sequence being loaded in to Foundry's Nuke using an entity reference from Ynput's AYON, with no custom pipeline code involved
The first beta release of OpenAssetIO is now publicly available! Adopted into the Foundation earlier this year in the sandbox stage, OpenAssetIO is an open-source interoperability standard for tools and content management systems used in media production. The beta release marks a notable milestone in OpenAssetIO's development, as its contributors work to graduate the project to the incubation stage next.
OpenAssetIO provides a common, vendor-agnostic dialog between content creation tools and centralized asset management systems. It aims to reduce the integration effort and maintenance overhead of content creation pipelines. OpenAssetIO also paves the way for new, scalable, standardized asset-centric workflows by enabling tools and asset management systems to freely communicate with each other, without needing to know any specifics of their respective implementations. This will lead to better workflows for artists and less work for developers compared to traditional file-based workflows.
With the beta release, experimental OpenAssetIO integrations are now available in software packages including Foundry's Nuke and pipelines such as Ynput's AYON, along with resolver support for libraries such as OpenUSD and OpenTimelineIO.
"The beta release is a milestone for us in terms of stability of the core API," explained Foundry's Tom Cowland, one of OpenAssetIO's TSC leads. "The project is genuinely driven by the community's priorities. We're really eager for a broader audience to start using the API in their workflows and tell us what else they need. This open community aspect is such a critical benefit of the Academy Software Foundation – already, we've had conversations and input from so many people who we wouldn't otherwise have had exposure to, and as a result we've been able to make higher-quality design choices."
The OpenAssetIO community has grown steadily as the project builds toward a v1.0 release, with close to 100 people attending its Birds of a Feather session at SIGGRAPH 2023, and nearly 300 people on the OpenAssetIO Slack channel. Developers interested in learning more or contributing to OpenAssetIO can visit https://tac.aswf.io/engagement/#OpenAssetIO.