Tram Le-Jones
VP of Solutions
ftrack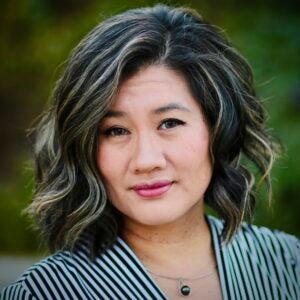 Tell us a bit about yourself – how did you get your start in visual effects and/or animation? 
I love telling people that I got my start in VFX through a Craigslist ad, ha! I was in college at San Francisco State University studying Computer Science and on the lookout for an internship. I was about a year away from graduating when the dot com bust happened. I dropped to part-time, intentionally, and extended my last year to two in hopes that tech jobs would recover. I remember finally seeing an ad for ESC Entertainment and thinking, wow, this is so cool! I landed the interview, then the job, and fell in love with this industry.
What was the first film or show you ever worked on? What was your role?
I worked as a systems intern at ESC Entertainment on The Matrix Revolutions. My primary responsibility was to calibrate monitors; a task that someone said looked like a really bad video game. I kept trying to convince them to give me more things to do so I ended up setting up the phones for new users. I remember making a mistake once and bringing down the entire producer wing…
What has been your favorite film or show to work on and why?
I'd say working on Spike Jonze's short, I'm Here, which explored similar themes as found in his feature, Her. I loved that team. Every time we reviewed the short we would get immersed in the story and the theater would go quiet. Spike was so great to work with. He was always kind and humble.
The animation (and soundtrack) really brought all the emotions together. We had to convey emotion through eyes and mouth tracked on a hard surface robot head with no tracking markers. Spike would often let us record his movements for animation reference and made himself available any time we needed him. I remember coming in for a review session once to find Spike curled up in the corner. He wouldn't tell us what was wrong until the next day, when he admitted to having food poisoning. I don't believe someone should work if they're sick, but the commitment and passion he displayed from the top went a long way for many of us. My time on I'm Here brings back so many feel-good memories and created some lifelong friendships.
What do you work on currently?
I joined ftrack as VP of Solutions in July. I oversee the Professional Services team, Integrations Development, and Partnership Management. Our Professional Services and Integrations developers extend the value and functionality of ftrack. Partnership Management cultivates our relationship with the community and industry.
ftrack is a growing team made up of industry professionals who understand what it's like on the production floor. We build tools to help teams focus on being creative. It's an inspiring time at ftrack seeing how fast we're growing. We're hiring in many regions worldwide for work-from-home roles, so check us out if you're motivated to help take creative team collaboration to the next level!
What do you like about open source software? What do you dislike?
I really like that the community can contribute to open source software. If you need a feature or bug fix you aren't bound to someone else's schedule. However, this can also be to the detriment of some smaller teams. If you're a small studio with no or limited technical resources, you're at the whim of others who are better resourced to maintain the software. Those who typically have more resources are medium to large studios, which might mean that the way they use the software is different from a smaller studio, but the smaller studio still has to work in that way.
What is your involvement within the Academy Software Foundation? Can you sum up your experience so far?
I've only started my involvement in the last few months, but my experience has been great so far. The working groups have been very inviting and inclusive, and the general membership cohort has been supportive. It's incredibly humbling to be in a (virtual) room with so many intelligent minds. ASWF's mission feels similar to The Pipeline Conference (ed note: Tram was co-chair of the 2021 conference) – especially where we both support and bring the community together.
What do you think is the biggest challenge facing open source developers/projects across the industry?
Prioritizing broader community requests. While it's great that the community can contribute, that can make it harder to know what will be maintained and extended and what won't, since open source doesn't typically offer roadmaps. This approach can lead to a tendency to opt for commercial products that are more predictable, especially when production timelines are tight and everyone strives to limit as much uncertainty as possible. As is usually the case, it all depends on the risks and rewards involved with each studio and project.