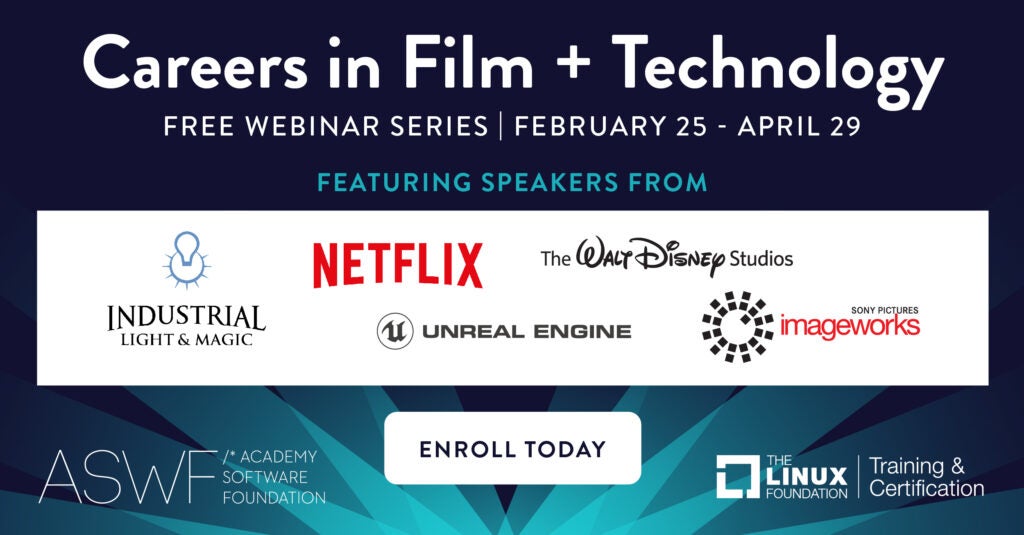 Several weeks ago, the ASWF Diversity and Inclusion working group kicked off its Careers in Film and Technology webinar series. This free webinar series developed by the Academy Software Foundation (ASWF) provides students interested in film and technology with an inside look at careers in visual effects and animation.
Developers and engineers from studios including Netflix, Industrial Light & Magic (ILM), Pixar, Epic and Sony Pictures Imageworks share how they got started, what their current job entails, and the impact that open source software has had in their career. Professors and hiring managers will also share suggestions for topics to study, skills to develop, and resources that can help you along the way.
This Academy Software Foundation series is specifically tailored for the next generation of young creators and problem solvers. High school and college students from all backgrounds who love movies and are interested in technology, computer science, computer graphics, visual effects or animation. No experience in computer science or animation is needed.
The series explores various technical careers in the motion picture industry including day-to-day responsibilities and skills needed. You will also learn about open source software (free software that anyone can use or contribute to), its importance for the motion picture industry, and how it can help you develop new skills and further your career.
Register for the series and catch the replays from past webinars today!