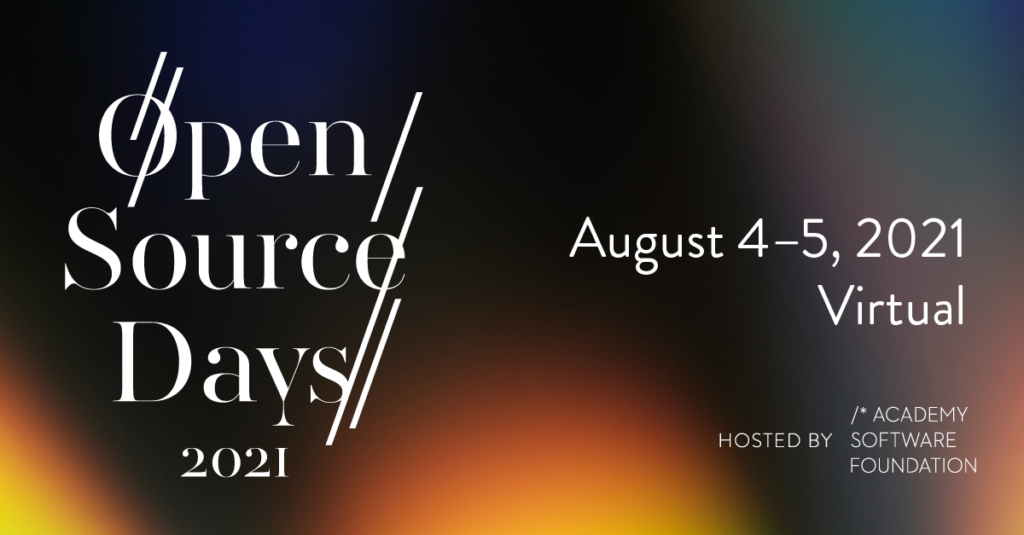 UPDATED 2021-07-28 with schedule and registration link.
The Academy Software Foundation is hosting its third annual Open Source Days on August 4 and 5, 2021. The free, virtual event brings together the motion picture industry's open source community to collaborate and learn about open source software for visual effects, animation, and content creation. 
Attendees will get the latest updates on Academy Software Foundation projects and other popular open source projects used for visual effects, animation, and image creation.
Last year's event brought together more than 700 attendees from 50 countries spanning more than 90 organizations. We hope you'll join us for this year's event.
"The Academy Software Foundation was created just 3 years ago. Today it is supported by 32 member companies and hosts 7 open source projects that are in continuous development by some of the best software engineers in our industry" said David Morin, Executive Director of the Academy Software Foundation. "The Foundation is becoming the stable, neutral and vibrant development platform that we envisioned when we created it. We are excited to invite you to Open Source Days, where you will get the latest update on our open source projects and learn how you can get involved in the next phase of our industry."
The schedule has been announced for this year's Open Source Days – check it out here. You can register for free for this event here.