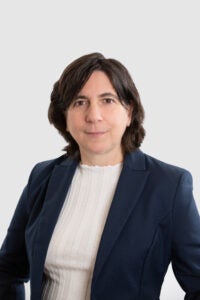 As part of an ongoing effort to drive open standards across the industry, Autodesk has released Open RV, an open source version of RV, its Sci-Tech award-winning media review and playback software. Autodesk has contributed Open RV to the Academy Software Foundation as part of Open Review Initiative, and it is now available on GitHub. Autodesk is a strong supporter of the Foundation and is an active contributor to many of our projects. To learn more about their involvement and their plans for Open RV, we chatted with Diana Colella, SVP of Media and Entertainment at Autodesk.
What are the key challenges that media and entertainment professionals face today?
The industry is currently facing many challenges, from increasing demand for content, to managing global teams, and working with tighter budgets and timelines for final delivery. In today's age of streaming, audiences are only a click away from switching to the next movie or series. Teams have to work more nimbly and efficiently to deliver compelling content. Supporting industry-wide open standards is critical to help teams tap into their creativity, collaborate across remote teams, and expedite production workflows. It's an area of focus for Autodesk as we strive to empower studios and production teams to create world-class artistry more efficiently.
Why did Autodesk decide to open source RV?
We recognized there is an industry need for standardized review and approval processes to help teams get to final pixel faster. As part of the open source community, RV will continue to thrive with both community-driven updates and development efforts by Autodesk engineers. We're contributing the RV codebase to ASWF's Open Review Initiative, along with DNEG's xStudio and Sony Pictures Imageworks' itview, to create a unified, universal toolset for playback and approval.
What are the benefits of open sourcing RV?
Releasing RV's source code benefits the entire M&E community by promoting greater collaboration and innovation. New developments for RV will not only be supported by Autodesk engineers, but also through community-driven updates. Studios can now also customize, modify, and implement new core functionalities to RV that are tailored specifically to their project demands or workflow needs.
Why did Autodesk choose to bring Open RV into ASWF?
We are working to eliminate workflow hurdles at each stage of the production pipeline, including review and approval, where there are often many different studios and stakeholders involved. Since RV is widely used across the industry, it was a natural fit to open source RV and contribute to ASWF's Open Review Initiative. Supporting interoperability throughout review processes and avoiding siloed team structures helps expedite approval and ensure the desired final look is achieved with greater ease and efficiency.
Does Open RV support codecs and video playback?
Yes, Open RV supports some open source codecs for video, audio, and image sequence playback. However, codecs that were licensed from third parties have been removed or disabled from the default Open RV configuration. Open RV users who opt to manage the licensing and royalties associated with using licensed codecs can modify the default configuration to enable them. Following the initial release, we will be working with ASWF to integrate video playback of additional codecs.
How is Open RV different from the version of RV that is included in ShotGrid?
While there are some differences between Open RV and the version included ShotGrid, our goal is to keep the two versions as closely aligned as possible. We will also invest in the Open RV project ecosystem and keeping the commercial version in sync so users can easily use both. There are however a few differences such as the support for licensed codecs and ShotGrid integration which we had to remove to expedite the release of OpenRV and minimize delay. Our goal is to add back some of that functionality as open-source – to the extent that it is possible
Why is supporting ASWF as both a member and as a contributor important to Autodesk?
As a founding member of ASWF, we believe driving open standards is crucial to the ongoing health of the M&E industry – ensuring everyone thrives. Standardizing on universal toolsets allows studios to work together more efficiently, remove friction between collaborators, and speedup production workflows. Autodesk invests heavily by allocating dedicated engineering resources to several ASWF-hosted open source projects. Those projects include Material X and OpenColorIO, along with industry-wide USD efforts. Teams save time and money by using open source tools, while also benefiting from technology updates that the entire M&E community contributes to.