Back in February, we officially released OpenColorIO (OCIO) v2 for download. A complete open-source color management solution for VFX and animation pipelines, OCIO is used widely across the film industry and this release was highly anticipated by artists, developers, and color scientists alike. This significant version update followed three years of development and four months of beta testing, re-engineering core components of OCIO to leverage the very latest in color science, including native implementation of ACES, the Academy Color Encoding System.
We recently checked in with software vendors from across the industry to see what excites them most about OCIO v2, and how OpenColor IO v2 support is starting to show up in your favorite applications. Thank you to Adobe, Autodesk, Epic Games, Foundry, ftrack, and SideFX for sharing your plans with us.
Adobe
Adobe is currently working to implement an ACES workflow inside an OpenColor IO v2 wrapper for its tools most often used in production pipelines: Photoshop, After Effects and Premiere Pro. Lars Borg, a SMPTE Fellow and one of the developers of ACES, is a core leader in Adobe's color team who is leading the charge. His colleague Patrick Palmer, Principal Product Manager for Professional Video, notes that the ability to support ACES in OCIO v2 without a 3D LUT is a significant step forward to driving broad-scale support for ACES, and that the improved GPU renderer in OCIO v2 is a critical area that will drive adoption.
Palmer also shared the following about Adobe's roadmap: "We are looking forward to having one means of setting up a consistent viewing environment for high dynamic range (HDR) footage. Adobe tools are found in nearly every production pipeline. While our tools have supported almost any colour working space, creating a viewing environment consistent from the set through to post-production, which often spans multiple vendors, was complex and required a high degree of management. We feel that by supporting OCIO, our users will work with higher confidence about what they are viewing. OCIO is becoming standard and allows us to have the same framework as other applications – which yields the same results in all participating products."
Autodesk
Autodesk has been one of the key collaborators in leading development of OpenColor IO v2 since its early stages, under the stewardship of Doug Walker, Technology Lead for Color Science, Patrick Hodoul, Principal Software Developer, and Bernard Lefebvre, Senior Developer. Autodesk has already integrated OCIO v2 into several of its tools including Arnold 6.2 (introduced in January), enabling artists to take advantage of OCIO v2's native support for ACES and processing improvements, as well as the latest version of Maya. Scenes created in Maya may also leverage a new default configuration file that follows the industry standard, ACES. Integration of OCIO v2 into other Autodesk applications is in progress.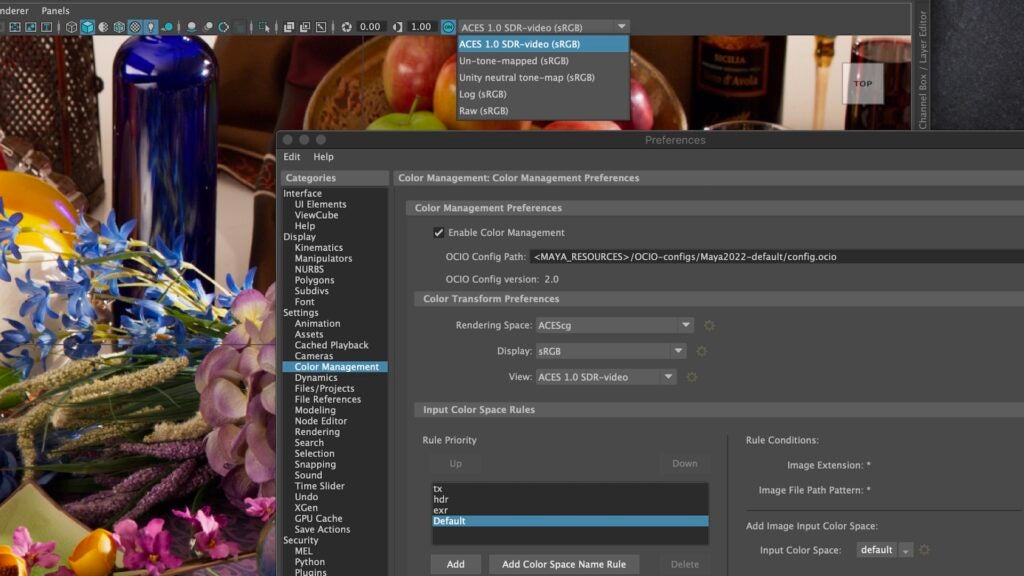 Walker shared: "The visual effects industry has changed considerably since the introduction of OCIO v1 ten years ago, including the wide adoption of ACES, high dynamic range video, and increased demand for leveraging GPUs for final pixels. A few improvements in OCIO v2 that I think are particularly notable include the new OCIO v2 GPU renderer, which provides precise matches to CPU results, the Academy/ASC Common LUT Format (a major improvement over earlier LUT formats!), and color pipeline configurations that are easier for artists to use and maintain."
Walker also explained that his favorite new feature within OCIO v2 is the addition of a display-referred reference space: "This better aligns the OCIO architecture with current best-practices in color science by allowing tone-mapping to be decoupled from the display encoding. It also enables many other benefits such as easier conversion among various video color spaces and support for ICC monitor profiles."
Epic Games
OCIO is currently supported in Unreal Engine, ensuring color consistency throughout the entire pipeline in film and virtual production projects. OCIO plays an important role in matching captured media sources to computer generated elements within Unreal Engine, ensuring easy color management from initial capture through to final render. The upcoming Unreal Engine 4.27 release will feature improvements in OCIO workflows allowing calibration between the content creation display of the artist and the capture created by the physical production camera creating greater fidelity for LED stage productions.
Epic Games confirms that OpenColor IO v2 support is on their roadmap for Unreal Engine 5, which recently entered Early Access for game developers and is expected to arrive in early 2022.
Foundry
Nigel Hadley, Product Manager for Nuke and Nuke Studio, and Mark Titchener, Lead Product Designer, shared updates on OCIO v2 support in Foundry applications such as Nuke and Nuke Studio. While Nuke Studio has relied on OCIO for color management since its inception, Foundry has been gradually transitioning Nuke to OCIO for several years, which will be completed with OCIO v2. Right now both Nuke and Nuke Studio have released Alpha versions with OCIO v2 support for user testing ahead of supporting OCIO v2 in an upcoming Nuke 13 release. Hadley and Titchener are particularly excited by the built-in transforms included in OCIO v2, which reduces the reliance on external LUTs and provides far greater accuracy than what could be achieved previously.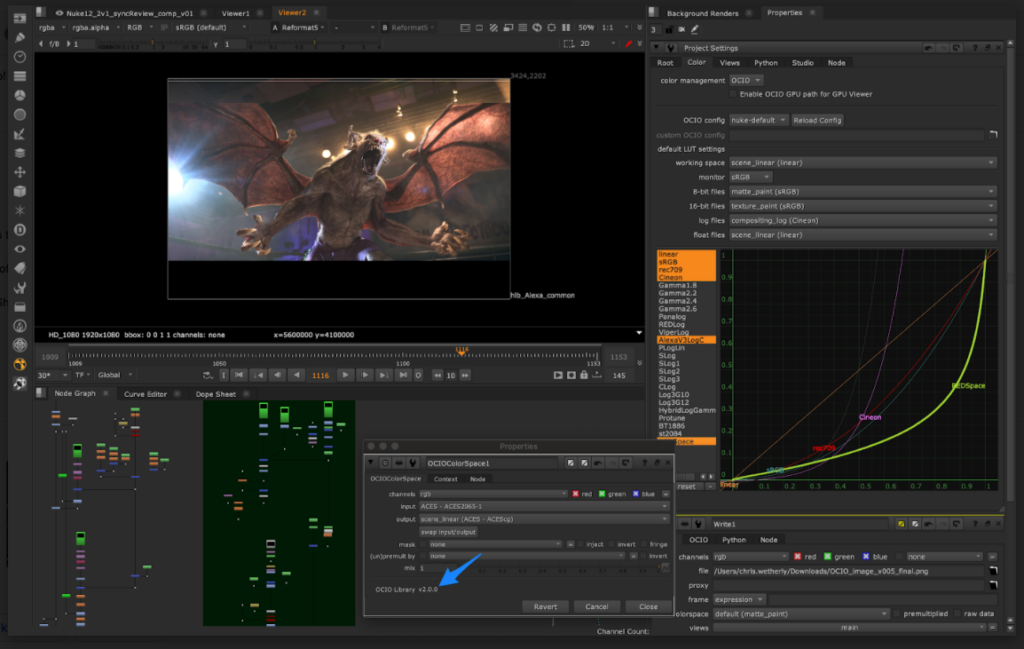 In addition, Titchener noted: "The most important update in OCIO v2 is the improvement of the GPU path. Making this match the output of the CPU path means that Nuke and Nuke Studio now produce consistent image outputs. As a result of now being able to use the GPU path, playback performance in Nuke has also improved significantly."
Key in its support of OCIO is Foundry's mission to improve the artists' experience working in color, and democratizing color technology across the industry. Hadley shared: "Color science is a scary topic that many people avoid. Having something like OCIO that unifies color management across all the products that companies use makes this whole process many times simpler."
ftrack
ftrack develops the industry-trusted desktop media review and approval solution cineSync. cineSync's color tools allow users to modify hue, brightness, and saturation and add LUTs to the content in question. As the ftrack team works to implement OCIO v2 support into cineSync, several improvements already stand out: the new GPU renderer, which takes advantage of faster processing to deliver high-res playback with fewer artefacts, and the new admin tools for organization and viewing, which make things much more manageable for users. ftrack is also exploring the new analysis tools to gain better insight into optimizing their OpenColor IO v2 implementation.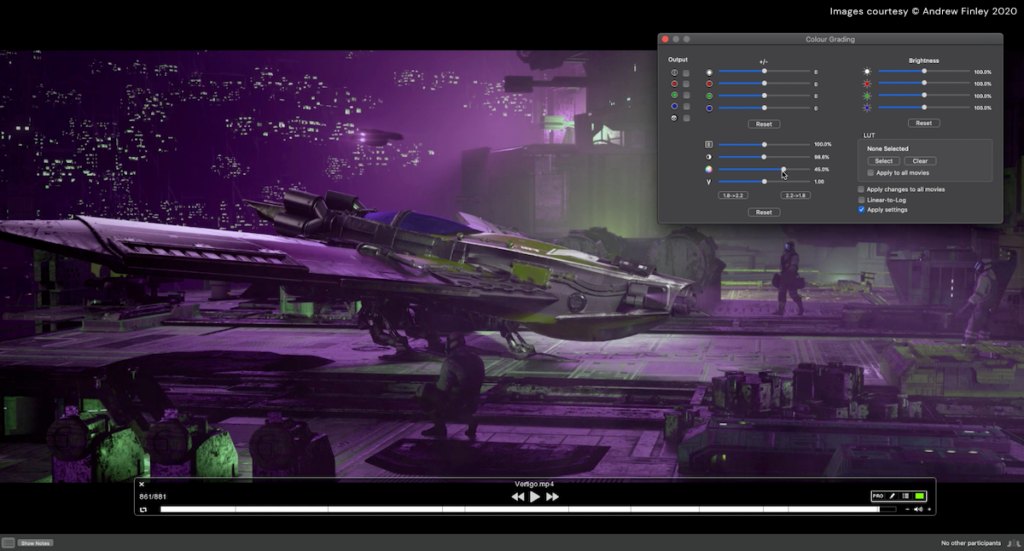 cineSync Technical Product Manager Neil Wilson notes: "The steps made by tools like OCIO toward standardization are crucial for our industry. The more we can align what we do, and the more we can get people and pipelines working toward the same goals, the better content we can create. Working together and sharing knowledge is what this industry has always been about; I love that open source tools like OCIO push things forward in this respect. The Academy Software Foundation is building a bright future for our industry to help build tools beneficial to all."
SideFX
OCIO has long been a critical component of Houdini for color management utilities, including functions within the VEX shading language to query OCIO configurations or perform color transforms, and color space management within the 3D viewport and render previews. SideFX's Karma renderer also uses OCIO for color space management. As the company begins implementing OCIO v2 support, they're particularly excited about the improved GPU renderer and vectorized CPU support.
Mark Elendt, Senior Mathematician at SideFX, elaborated on the importance of OCIO v2 and open source tools overall: "Open source libraries, such as OCIO v2, provide great value to the community. Aside from providing stable, secure and optimized code, the tools also provide a common standard of support across all applications and facilities. This is extremely important for color space management, provided by OCIO v2. OCIO leverages other open source tools like ACES to build a common language that allows everyone to understand color in the same way. From camera manufacturers, to visual effects studios, to projection systems, everyone can use a common language to understand color so the final work will be seen exactly as intended."
Open Source Days 2021
Come learn more about OpenColor IO, and other open source projects, at the Academy Software Foundation's Open Source Days happening on August 4 and 5th. Register today for free.