The Academy Software Foundation held its annual Open Source Days 2023 from July 26 to August 16, 2023, fostering fantastic open source content and new community connections. The sessions were presented in three segments: Virtual Town Halls held online to showcase Foundation project and working group updates; in-person and virtual Open Source Day panels and presentations on August 6; and a full day of in-depth Birds of Feather sessions during the SIGGRAPH conference in Los Angeles. Read on for more information about these incredible presentations, and be sure to support ASWF by stocking up on merch for all of your favorite open source projects, available now at the new Academy Software Foundation online store.
Virtual Town Hall Series
Leading up to the Open Source Days Main Program, the Academy Software Foundation held a new Virtual Town Hall series for projects under the governance of the Foundation, including OpenTimelineIO, OpenFX, rez, Open Shading Language, xSTUDIO, OpenAssetIO, OpenEXR, OpenImageIO, OpenColorIO, MaterialX, and OpenRV, along with updates from the Diversity & Inclusion and USD working groups. These projects and working groups shared milestones, highlights, future roadmaps, and answered questions from the community. The complete list of Virtual Town Hall recordings is available here.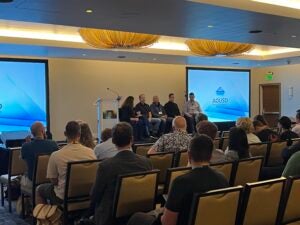 Open Source Days Main Program
The Main Program for the Foundation's signature all-day community summit, Open Source Days, saw record-breaking attendance with 283 attendees in person and another 108 joining virtually. The event's keynote panel, 'A Conversation with the Alliance for OpenUSD,' was moderated by Rachel Rose of Industrial Light & Magic, with speakers including Autodesk's Eric Bourque, NVIDIA's Guy Martin, Adobe's Guido Quaroni, and Pixar's Steve May. The discussion provided an exclusive look into the founding companies of AOUSD, their goals for paving the way toward widespread interoperability across 3D ecosystems, and how the Academy Software Foundation's USD Working Group plays an important role in that effort.
An additional highlight from the Open Source Days Main Program was the 'Strategies for Open Source Development in Academia,' keynote delivered by Wenzel Jakob, Assistant Professor in the Realistic Graphics Lab at Switzerland's EPFL School of Computer and Communication Sciences. Jakob led an engaging and entertaining talk sharing his experience developing open source projects in the research and academic world with practical advice for contributing or creating open source projects.
One of the most compelling talks from the Open Source Days lineup was 'Forty-Eight Stories: Open Source Inside Autodesk' with company leaders Eric Bourque and Doug Walker. This enlightening presentation provided a detailed look at how company leadership came to embrace open source, how open source has transformed the way Autodesk builds its products, and how open source community engagement has directly impacted the lives of company employees.
The Open Source Days Main Program also included fabulous talks from Amazon Web Services, Canonical, Cinesite, DNEG, Epic Games, Foundry, Intel, Jellyfish, Movielabs, and Orange Turbine. All of the content was recorded and is now live on the Academy Software Foundation YouTube channel.
Birds of a Feather
Open Source Days was followed by a full day of Birds of a Feather sessions on August 7, where standing-room-only crowds gathered for in-depth discussions around Foundation projects including OpenColorIO, OpenAssetIO, OpenImageIO, Open Review Initiative, OpenVDB and more.
Stay tuned for more information about the Academy Software Foundation's Open Source Forum in early 2024!