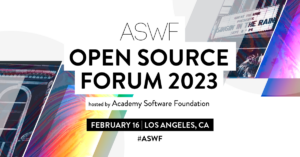 We are excited to share the full schedule for Open Source Forum 2023 happening February 16th. Register now to join us in-person in Los Angeles. Virtual attendance is also available.
Our annual Open Source Forum gathers business and technical leaders to share ideas and insights as well as updates on emerging open source projects. Executives, businesses, open source program office leaders, technical leaders responsible for key projects and open source strategies, and anyone who is interested in learning more about the Academy Software Foundation, are all encouraged to attend. 
The keynote will be given by Dr. Andrew Glassner, Principal Research Scientist at Wētā Digital/Unity entitled "Storytelling in the Era of AI." Glassner has worked as a film director, computer researcher, video game writer-director, and novelist. He now works at the intersection of human artistry and software for creating visual effects, and developing tools for a new generation of storytellers and audiences.
Other sessions will explore:
Open RV – Journey of Open Sourcing a Commercial Product

xSTUDIO – an Open Source Playback and Review Application 

Digital Production Example Library Updates: Intel® 4004 Moore Lane USD Scene

Open MoonRay Update

OpenVPCal: An Open Source In-Camera Visual Effects Calibration Framework

Metropolitan Museum of Art – Chroma: Ancient Sculpture in Color – Behind the Scenes Challenges, Solutions, and Opportunities for Imaging Standards
Speakers rounding out the program include: Andrew Pearce, VP Global Technology and Randy Packer, Sr. Manager Production Software/DreamWorks Animation; Carol Payne, Imaging Technologist/Netflix; Guillaume Brossard, Director of Engineering ShotGrid/Autodesk; Sam Richards, VFX Manager/Disney; Scott Geffert, General Manager for Advanced Imaging/The Metropolitan Museum of Art; David Morin, Executive Director/Academy Software Foundation; and Hilary Carter, SVP Research & Communications/Linux Foundation. Presenting virtually at the event will be Sean McDuffee, Platform Architect 3D Creator Segment/Intel and Ted Waine, R&D/DNEG. 
Registration is open for both Academy Software Foundation members and non-members at https://events.linuxfoundation.org/aswf-open-source-forum/.