OpenTimelineIO (OTIO) is an open source API and interchange format that facilitates the communication of editorial data and timeline information in rich and flexible workflows – filling a critical but often-overlooked gap in film production pipelines. Its API is simple to integrate with both studio tools and third-party software applications, making it easier to deal with things like tracking shot length changes, providing context shots in dailies, communicating shots added or removed, conforming new renders into a cut, and dealing with picture-in-picture shots.
Last fall, we shared some updates on OTIO with the release of Beta 14. OTIO continues to build momentum as it builds toward a version 1.0 release this year, with more and more third-party software applications now adding support for the format. We recently checked in with several Academy Software Foundation member companies to see how they are integrating support for OTIO into their current and upcoming software releases – including Autodesk's RV and ShotGrid, Epic Games' Unreal Engine, Foundry's Nuke and Hiero, and ftrack's cineSync.
Autodesk
Autodesk has been closely involved with OTIO's development ever since 2019. Most notably, Autodesk recently added native support for OTIO in RV, with an open integration so that anyone can enhance their own OTIO/RV pipeline with custom schemas, effects, and metadata. Autodesk also built a private API to abstract ShotGrid data and convert media, playlist, cuts, and sequences into OpenTimelineIO objects that can be consumed by any OTIO-aware application. This API is used across all Autodesk media playback workflows, including ShotGrid Create.
Kevin O'Neal, Group Product Manager, Autodesk, shared: "We use OTIO as the backing representation of timeline and composition in the viewer for player technology in our review experiences. It currently backs the player in ShotGrid Create, it has support in RV 2022 for Import of OTIO, and is used in our internal APIs to help form and pass timeline and composition information. We continue to explore how we can use this around our ecosystem to back any representation of timeline and composition. We also actively seek input and advice from our user community to make sure we meet their expectations."
Autodesk greatly values the community collaboration fostered by the Academy Software Foundation. Eric Desruisseaux, Technical Lead at Autodesk, commented: "Since we were early adopters of OTIO, we have been ahead of its evolution, which allows us to contribute back to it. For instance, we presented our spatial coordinate system to the community and ended up integrating it into the standard for everyone to use."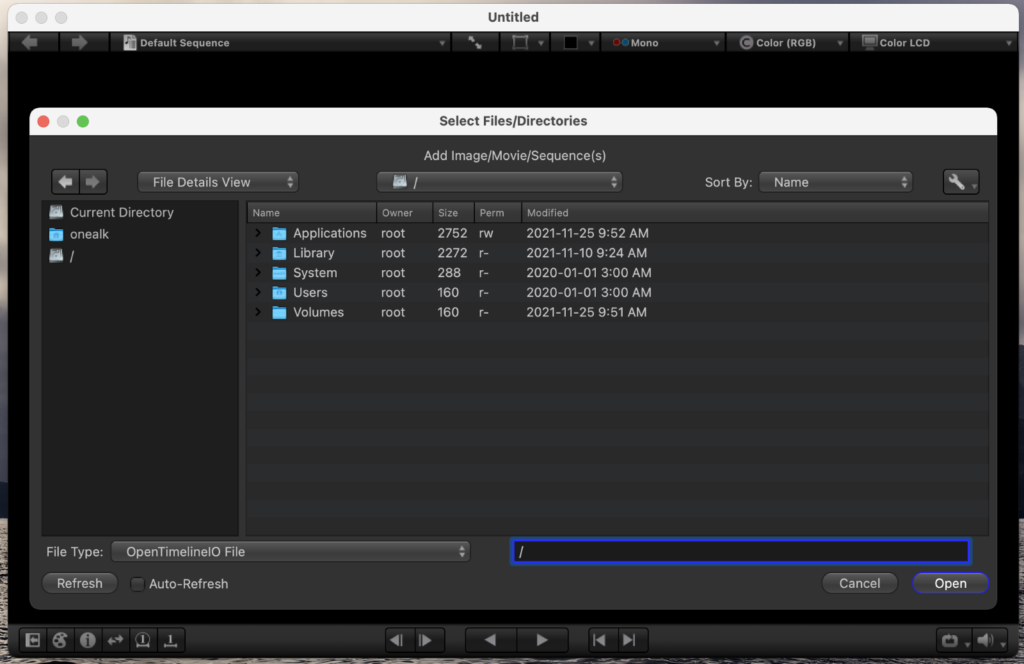 Epic Games
Epic Games recently released Unreal Engine 5, a major version update that makes it easier for CG artists and game developers to create photorealistic scenes and characters in real-time. The team at Epic is currently developing an OpenTimelineIO plugin for Unreal Engine 5 that will be ready for beta testing this year.
Shawn Dunn, Senior Technical Product Manager for Unreal Engine at Epic Games, commented: "We're always looking for ways to support Unreal Engine creators with the most open and advanced features, so they can spend less time worrying about interoperability and more time focused on creating compelling linear content and amazing experiences. OTIO does a lot of the heavy lifting – facilitating the communication of editorial data and timeline information for creators – which is why we're excited to introduce our OTIO plugin soon. And, as believers in the potential of community-driven open source tools, we're also planning to make our contributions to the API available to the community. We can't wait to see how creators will leverage the OTIO beta plugin to tell better stories across games, animation, and beyond."
Foundry
Foundry has been actively monitoring OTIO's progress through TSC meetings and collaboration on the ASWF's Slack channel, as well as meeting with customers to learn how they are currently using OTIO and would like to use it in the future.
"Foundry believes in the need to find a better way to collaborate and move editorial related data between the different stages of production. In combination with previous work done in Metadata management, we expect OTIO to be the future of editorial workflows when manipulating editorial data," shared Juan Salazar, Director of Product Compositing, Editorial and Review.
Nigel Hadley, Product Manager, Nuke and Timeline tools, added: "Our product goal is to progress Nuke Studio and Hiero as hubs for data interchange and management, with new workflows to bring better connection between all stages of the pipeline including story development, previz and virtual production, editorial and post-production. To enable this goal we decided that the time was right to add OTIO as a feature to Nuke Studio and Hiero. For our recent Nuke 13.2 release, we are very excited to offer OTIO support for both the import and export of clips, tracks, transitions and linear retimes in OTIO edits."
Foundry has labeled OTIO support as a Beta feature for now, and expects to make iterative changes once the full OTIO v1.0 is released, incorporating user feedback as well as new developments in the base code.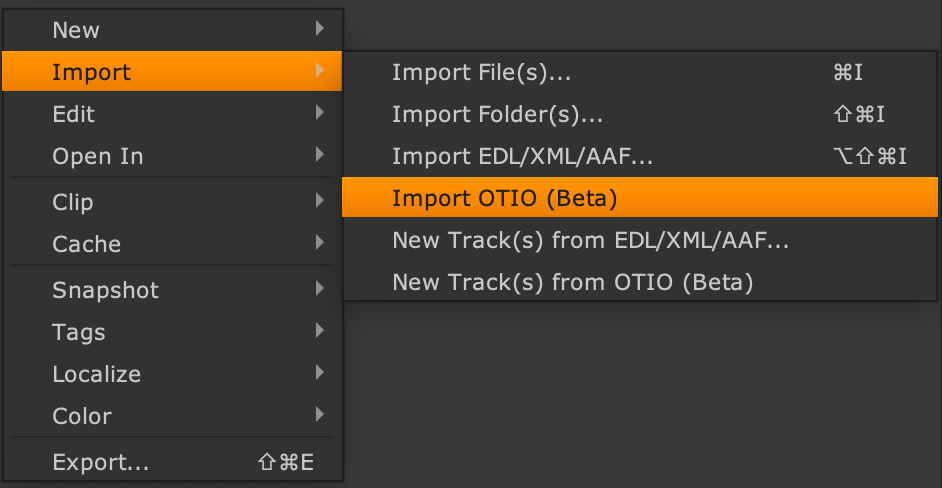 ftrack
ftrack recently introduced OTIO support in its cineSync 5 release. cineSync 5 is a total overhaul of the codebase and infrastructure underlying cineSync's media review and approval tools, and marks one of the most significant changes ever made to the platform.
Rory McGregor, Review Product Manager and General Manager, Australia at ftrack explained, "We made big changes in cineSync 5 for several reasons: greatly improved media playback, multiple language support, and the ability to play more standardized file formats are just a few. However, one of the core motivations for this update was to add full support for file and image sequences and support for formats like OpenColorIO and OpenTimelineIO. With OTIO in cineSync 5, we can support the workflows that define the industry and how it works today, offer enhanced collaborative media review workflows, and feed into processes that deliver higher-quality results. For these reasons, we're excited to support OTIO from cineSync 5 onwards!"
The cineSync 5 release also introduces cineSync Play: a basic, local version of cineSync 5 with support for file and image sequences and OTIO. As part of ftrack's commitment to the open source community, cineSync Play is available free for all and will be packaged with every ftrack Studio license, allowing anyone to dive in and see the benefits of OTIO workflows in media review.
McGregor added, "At ftrack, we fully support the efforts currently underway with ASWF in creating standardized, open-source tools for the industry. The more our platforms can talk to one another, the better work we can produce, and the more we can astound audiences in the theater or at home."