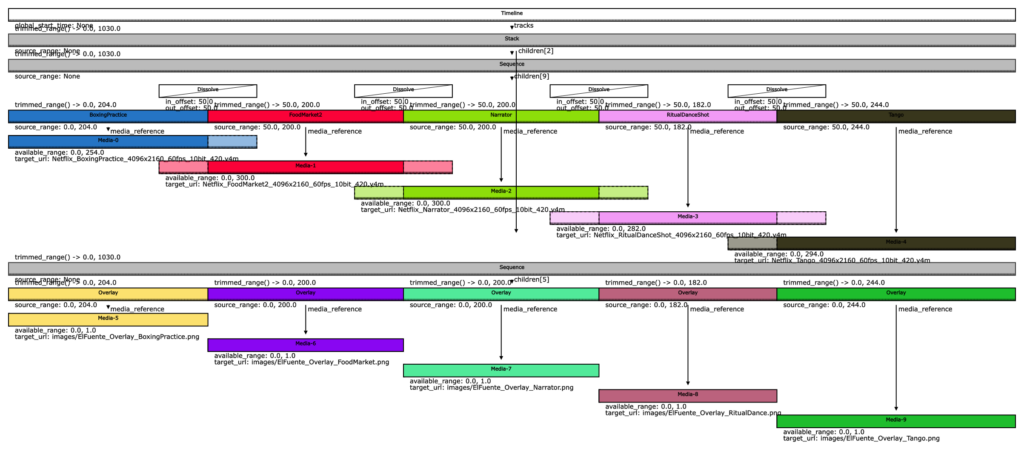 The Beta 14 release of OpenTimelineIO (OTIO) is officially available for download! This update notably adds greater automation and support for the latest versions of Python as recommended by the VFX Reference Platform. New features in Beta 14 include:
A newly-rebuilt build and CI system designed to automate Python packaging for Windows, Mac, and Linux
New otioz and otiod file bundles that combine timeline files with media, opening up new workflow possibilities
Support for Python 3.8 and 3.9
New C++ functionality, examples, and documentation
OTIO is an open source API and interchange format that facilitates collaboration and communication of editorial data and timeline information between a creative studio's story, editorial, and production departments all the way through post-production. Originally developed by Pixar Animation Studios in collaboration with Netflix and PIX System for the open source community, OTIO makes it easier to build tools that use editorial timeline information, filling an often overlooked gap in film production pipelines. It supports clips, timing, tracks, transitions, markers, and metadata in an API that is easy for studios to integrate with their tools and for software vendors to integrate with their applications. Use cases for OTIO include tracking shot length changes, providing context shots in dailies, communicating shots added or removed, conforming new renders into a cut, and dealing with picture-in-picture shots.
OTIO became a hosted project of the Academy Software Foundation in 2019, and through continued development it is becoming an industry standard for editorial pipelines, and its support across third-party applications is growing – now including Cospective's cineSync, Ahead.io's Cezanne Studio, and The Cargo Cult's Matchbox.
"OTIO is gaining a lot of momentum across the industry as more and more studios understand how it can fit into their pipelines and automate a lot of the busywork so that artists can see their work in the context of an editorial timeline," said Joshua Minor, Chair of the OTIO Technical Steering Committee (TSC) and Lead Software Engineer for the Story & Editorial Tools Group at Pixar Animation Studios. "We're thrilled to have had our highest number of contributors to date on this release, and new collaborators are always welcome as we continue building toward our version 1.0 release."
See the full release notes for additional information. Developers interested in contributing to OTIO can join the discussion here and on the Academy Software Foundation's Slack. Big thanks to the many contributors on this release, especially Karthik Iyer, Darby Johnston, and Jean-Christophe Morin!