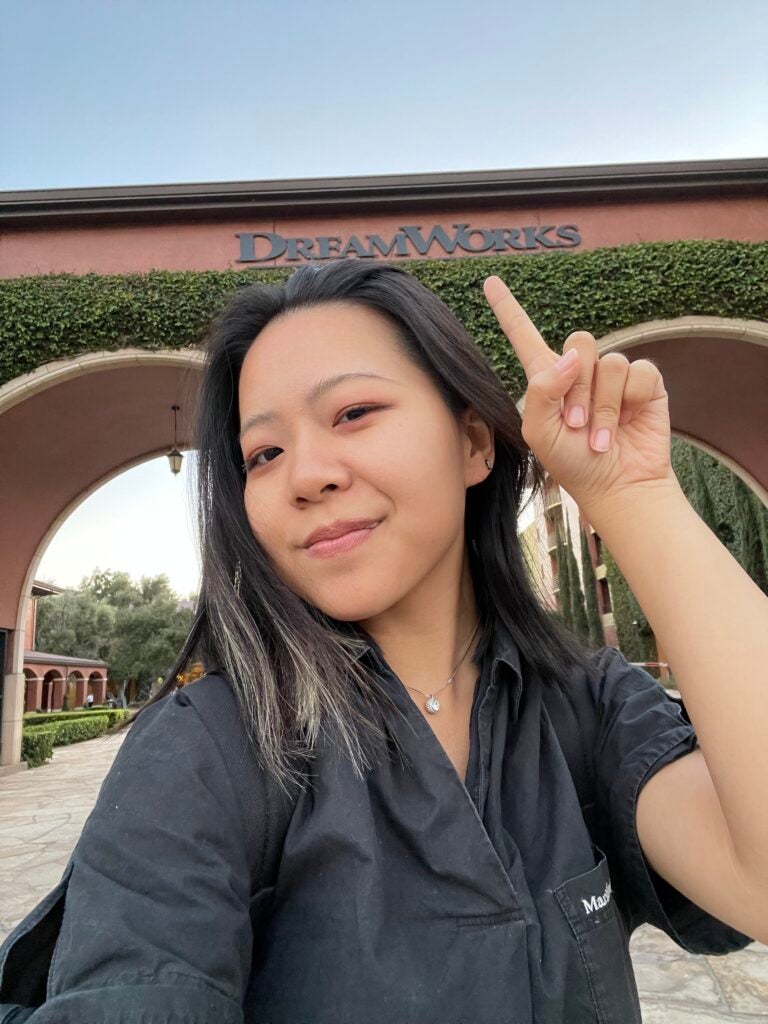 One of the Academy Software Foundation's fastest-growing initiatives has been the annual Summer Learning Program. Spearheaded by the Diversity & Inclusion Working Group, the program aims to provide practical skills and mentorship to underrepresented students and young people looking to explore technical careers in the animation and VFX industries.
In case you missed it, we just announced details for our 2023 Summer Learning Program, and the deadline to apply is April 14!
As we gear up for another great Program, we turned to one of the 2022 participants, Irina Wang, to hear firsthand about her experiences as a mentee and how the Program led her to her current role as an Associate Technical Director at DreamWorks Animation.
Irina graduated from Tufts University in 2022 with a degree in Computer Science and Cognitive and Brain Science. During her final semester, she joined the Women in Animation (WIA) mentorship circle, where she was first exposed to the variety of technical roles in animation and media. She realized quickly that this was the path she wanted to pursue professionally, but knew she needed to gain experience with computer graphics and animation pipelines. Her WIA mentor pointed her to the Academy Software Foundation's Summer Learning Program, and everything clicked.
"I was fascinated by the Technical Director (TD) role, but I had very little experience using digital content creation tools like Maya or Unreal Engine, and my school didn't offer courses in computer graphics," Irina explained. "When I was accepted into the Summer Learning Program, my main goal was to learn the necessary skills to be a Technical Director, so I started with Animation 101 and Maya scripting. What I loved the most about the Program was that it's self-paced, so as I discovered interests in layout and lighting, I took more initiative in structuring my own learning and expanded my list to include Arnold and Nuke."
In addition to educational resources, Irina was paired with a mentor: Doug Walker, a Senior Principal Engineer at Autodesk and one of the Chief Architects of the Academy Software Foundation's OpenColorIO project. Irina and Doug met weekly throughout the 8-week Program, which soon blossomed into a rewarding friendship.
"I was really fortunate to work with Doug because he dedicated so much time and effort to my personal growth," Irina shared. "The typical routine in the Summer Learning Program is for mentors and mentees to meet for 30 minutes each week, but as I delved deeper into my studies, the more questions I had. Doug would always make more time for my questions, and for the questions that we didn't get to, he would take notes and later follow up with an email to address them. He even offered additional office hours and checked in with me on a daily basis as we got closer to the final project."
For her final project, Irina leveraged her new skills to develop a Maya plugin for setting up the light rigs in an animation turn-table, and then rendered out scouting frames based on work by painter Edward Hopper. Each participant gave a presentation on their capstone projects to the full Program cohort during the final week. On the Program's shared Slack channel, mentors and participants alike shared lots of encouragement and support along the way.
As Irina and Doug connected throughout the course of the Program, they also worked together to refine and navigate Irina's professional goals. When the summer came to a close, Irina was hired at DreamWorks Animation as an Associate Technical Director, where she is working on "Kung Fu Panda 4." She and Doug are still in touch and regularly share their career milestones with each other.
"The Summer Learning Program definitely helped me pivot into the industry I had been dreaming of," said Irina. "I was able to develop a more convincing portfolio that backed my interests, and I became more confident from gaining insider knowledge of what it's like to work as a TD. I'm so grateful to Doug, because knowing that someone really cared about my career path helped me see more for myself too. This is my first job and I am absolutely loving every moment of it!"
Looking back, Irina observed that the mentorship aspect of the Summer Learning Program went far beyond her initial expectations. She noted, "It's funny because I did not check the box for mentorship when the pre-Program survey asked about our expectations. I had a one-track mind and thought I would gain the most by immersing myself into the educational videos and tutorials. But now looking back, I definitely got the most from interactions with Doug and other mentors in the program, including Kaitlin, Karen, Tom, Carol, and Sean. I wouldn't have gotten to where I am now without this supportive community, and it makes me really want to give back."
For details and application info for the 2023 Summer Learning Program, visit: https://www.aswf.io/blog/summerlearningprogram2023/