In Behind the Screens, we talk to developers and software engineers from across the motion picture and media industries to learn more about their work in visual effects and animation, how they use open source software, and their involvement in the Academy Software Foundation.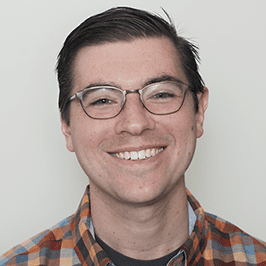 Brian Cipriano
Senior Software Engineer, Google
ASWF Technical Advisory Council Member
OpenCue Project Chair
Tell us a bit about yourself – how did you get your start in visual effects and/or animation?
In college, I studied a mixture of computer animation production and computer science. I did a little bit of everything — character animation, compositing, TD work — but soon found my favorite work was on pipeline development. I love creating the glue that lets production flow smoothly and solves problems for the rest of the people I'm working with. So, after college, I started working as a pipeline dev — one of the tools I created was cloud rendering software (Zync) which was acquired by Google in 2014. I've been at Google since then, doing essentially similar work but at a much larger scale now.
What was the first film or show you ever worked on? What was your role?
That was SURROGATES, in 2009. I was doing mostly pipeline development, writing custom Nuke tools and gizmos for production. We had a pretty small team so I may have even helped out with some compositing in the late hours of production.
What do you work on currently?
I'm a software engineer on Google Cloud's Media and Entertainment team, working on rendering and other content-creation solutions. One of my main projects is OpenCue, a project we worked on with Sony Pictures Imageworks to open source earlier this year and is now an ASWF project.  We presented on OpenCue last week at the LA Pipeline Developers Meetup; you can watch a recording of the meetup here. 
What do you like about open source software? What do you dislike?
It has a great way of bringing people together, across companies/cultures/countries, to solve problems that we all share and are passionate about. I always try to bring the same approach to other areas of life.
What is your involvement within the Academy Software Foundation? Can you sum up your experience so far?
I'm a member of the Technical Advisory Council (TAC) doing double duty as Google's representative and the OpenCue project chairperson.
It's been a wonderful experience — it's been a long-needed effort that has breathed new life into some truly foundational projects and helped foster some new ones. There's a huge amount of talent and knowledge collected in the ASWF, it's a great privilege to be a part of it.
What advice would you offer other developers or software engineers interested in getting started with the Foundation?
Don't be afraid to reach out and start chatting — we'd love to hear from you. If there's a problem you have that you'd like to solve, great. If you just want to get involved and want some advice on what to work on that's great too!
Calling all developers! If you are currently involved in the Academy Software Foundation or one of our projects and would like to be featured in "Behind the Screens," please email us.