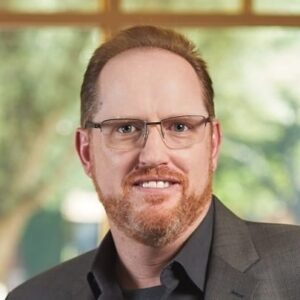 Bill Ballew
VP of Research & Development, DreamWorks Animation
TAC Member, ASWF
Tell us a bit about yourself – how did you get your start in visual effects and/or animation?
While in college and during the beginning of my professional career, I had been fascinated by animation.  Disney was going through their resurgence with The Little Mermaid and Beauty and the Beast, starting to lean heavily on software tools and computer graphics.  While aerospace work was interesting, being part of the animation industry really peaked my interest. When Spielberg, Katzenberg, and Geffen announced they were starting up a new studio in 1994, on a whim, I applied. I didn't hear anything back for a few months, but then I got a call (actually the person who took over my desk at the company I had just left got the call and, thankfully, forwarded it to me).  I joined DreamWorks Animation in 1996 and have been there ever since in a variety of roles.
What do you work on currently?
Today I am the VP overseeing our Research and Development department. I have an amazing team that is responsible for much of the software that is built for the studio, ranging from rendering & shading, animation tools, farm management & submission tools, software configuration management, microservices development, third party tool extensions, and simulation tools. We have the ability to push the envelope in many areas, providing state of the art tools to our artists.  The best part, however, is seeing our artists and technologists coming together to solve problems; that is what makes this industry so unique.
What was the first film or show you ever worked on? What was your role?
When I started at DreamWorks Animation, we were working on Prince of Egypt; that was supposed to be the first animated film released by DreamWorks (it turned out to be the second, but that is another story). It was a startup studio, very exciting and somewhat chaotic, especially for someone coming out of the aerospace industry. I was a software engineer working on our proprietary production tracking software that we were building from the ground up. It was named "Nile," themed for the first production it would be deployed to and representing the flow of assets between departments. We were developing a multi-tiered architecture using Java, with a user interface in AWT for Windows, Mac, and Irix.  In 1996, this was either forward-looking or completely crazy. We even got the attention of James Gosling who noted this as one of the first enterprise systems written fully in Java.
What has been your favorite film or show to work on and why?
It is hard to pick a single movie out of all the DreamWorks slate that is my favorite. I certainly have ones that hold a special place for me: Prince of Egypt was my first film and still gives me goosebumps during the "When you Believe" chorus; the How to Train Your Dragon trilogy with such a strong bond between Hiccup and Toothless; the Madagascar films that are energetic and just plain fun; Abominable with so much heart and positive message. They are all among my favorites, but what I really like is how different they all are from each other; the styles, messages, and stories all have a unique feel.
What do you think is the biggest challenge facing open source developers/projects across the industry?
The lack of diversity is one of the biggest challenges facing the software industry in general, and one that applies equally to the open source community. We need to do more to drive gender and racial diversity for the software industry. Software development is, by its nature, a creative process and needs ideas coming from diverse points of view. Innovation happens best when we have that diversity of thought.
How do you think the Academy Software Foundation can help solve that challenge?
The diversity issue is multifaceted, and there are many things that can help solve the challenge: encouraging STEM at middle and high schools, providing role models to inspire, recognizing hidden biases, and fixing environments that discourage diversity. The ASWF is positioned to give an opportunity to people, no matter their background, to contribute in meaningful ways to projects for our industry. I hope to see ASWF do more outreach in the future, working with organizations in this space to engage underrepresented software developers to contribute to open source projects.
What advice would you offer other developers or software engineers interested in getting started with the Foundation?
Get involved!!! Find one of the current ASWF projects (or even another open source project) that you have a passion for. Learn as much as you can about the project and the code, then reach out to the leaders of the project and ask where you can help.
Calling all developers! If you are currently involved in the Academy Software Foundation or one of our projects and would like to be featured in "Behind the Screens," please email us.