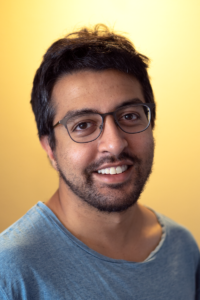 Dhruv Aditya Govil
Pipeline Architect

Tell us a bit about yourself – how did you get your start in visual effects and/or animation?
I first got interested in computer graphics when I was 12 or 13. I'd always been into a mix of tech and art as a child, but had never thought to combine them. It was about this time the Lord of the Rings trilogy was released in India. Around the same time, a computer magazine had an article on modeling the One Ring in an included 3D App.
This was the first time I'd thought to mix art and technology. From there, I was hooked. I knew I didn't have great resources to learn the art side of things in India at the time, but my parents let me build a suped up PC (for the time), and I taught myself as much as I could about 3D applications so I could hit the ground running when I eventually got to an art college. I ended up studying Classical and 3D Animation at Vancouver Film School in Canada. I really wanted to be an animator, but I truthfully was having a hard time competing with other talent, even more so as a foreigner. Fortunately, I'd taught myself to program and write animation tools for myself, so I ended up mixing my love for tech and art again to become a TD, and it's been a very fruitful decision.
What was the first film or show you ever worked on? What was your role?
My first project was Percy Jackson and the Sea of Monsters at Rhythm&Hues in Vancouver. I was an Animation Support and Layout TD, responsible for setting up scenes, pre-lighting, helping artists with technical issues and writing tools for them.
What do you like about open source software? What do you dislike?
I really like the communal mind share. We have so many bright minds, and it's great to see how we can empower each other by sharing ideas and technology that would otherwise be out of reach for many. Instead of locking things behind doors, we all benefit. Something I dislike is how few designers get involved with open source projects. A lot of projects have amazing engineering but a little UI and UX love could make all the difference.
Which open source projects do you currently use or contribute to?
I've use a lot of open source software in my career. Python, Visual Studio Code, Qt and Pixar's USD are bedrocks of a lot of projects I've been part of. I've contributed to them, or projects based on them in the past where permitted.
What is your involvement within the Academy Software Foundation? 
I participate in a few of the Working Group initiatives, mainly USD, Python 3 and the Diversity groups. I think it's a great organization to move so many key projects forward together, and there are so many great minds to pick.
What advice would you offer other developers or software engineers just getting started?
Find domain areas that interest you and see what open source projects there are in that area. Start engaging with the community for those projects, see what can be useful, and start contributing if you can. Many projects have easier issues directed at beginners.
How do you think we can encourage more diverse talent to participate in open source communities?
I think that if projects partnered with diversity focused software initiatives to let people know about the kinds of projects that are there, and just more generally, about roles in our industry, it could create more engagement.
I've written articles and given talks on roles of Python devs in the industry and have received lots of positive feedback from people who didn't know these things existed.
Is there something you wish you had known earlier in your career that would have helped with your professional development? Or, are there resources you wished you could have had access to?
I wish there were more resources in the way of becoming a technical artist; there's still very little in the way of guidance. The Technical Artist group is a great resource, and I have a course I created for that gap but there's still nowhere near as many resources for technical roles.
Also, resources on effective career progression. There's generally so little advice for people both coming into the industry but also for progressing through it. I think initiatives like Women in Animation are doing great things here.
What is your vision of diversity for the Open Source community and the Academy Software Foundation?
I would love to see more BIPOC involvement, as it's still a relatively small group within the film development community. Of course women as well, and thankfully I'm seeing a much larger number of women entering the tech art role across the industry in recent years.
What do you think is the biggest challenge facing open source developers/projects across the industry?
Accessibility of knowledge. There's just a huge learning curve, even for experienced industry people, to understand the foundational concepts of each project.
How do you think the Academy Software Foundation can help solve that challenge?
I think making our projects more accessible and educating people on how they're used will be a huge path forward. Making cohesive project pages and providing 101 resources for people would be great. The new OpenColorIO page is a great example of making things easy to understand.
What do you think is most important for the Academy Software Foundation to focus on in the next year?
Outreach to educational facilities and education initiatives are places where I think the ASWF can have a huge impact. Encouraging more students to consider the film industry will greatly increase our talent and diversity going forward.
What do you like to do in your free time?
My wife and I train our Thai rescue dog. She's super smart and does tricks like putting her paws up to Single Ladies by Beyonce. I also shoot concerts and play a lot of guitar.
You can follow Dhruv on Twitter, Github, or read more at his blog.