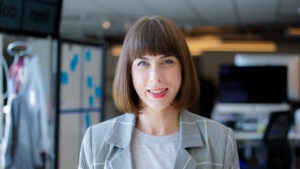 Rebecca Bever
Sr. Core Developer
Marvel Studios
Tell us a bit about yourself – how did you get your start in visual effects and/or animation? What was your major in college?
I had always wanted to get into the Visual Effects industry. Ever since I was a little girl, I was obsessed with the behind the scenes footage (Lion King early on and Harry Potter thereafter), and I wanted to know more about the "movie magic." I was also very much into computer games and excelled in math in science, and I wanted to somehow combine my love for film and the sciences. I went to school for Computer Science at Arizona State University as that was a practical degree to get, as my father would say, and I continued to involve myself with film related activities and minored in Film. During my last year of school, I happened to score an internship at a Pre-Vis company in LA and the same summer volunteered at SIGGRAPH. With luck and perseverance, I ended up connecting with the head of R&D at Digital Domain at the career booth. I was offered a position later that year. The rest is history!
What is your current role?
I am a Senior Core Developer at Marvel Studios. I am responsible for designing and developing a lot of our core software to be shared by our technology team and productions. This includes Database management, processes for deployment of software, data transfer, etc. I also interface with vendors and other Disney partners to determine how to connect all of various solutions together.
What was the first film or show you ever worked on? What was your role?

The tail end of Oblivion at Digital Domain. I was hired on as a Software Engineer and responsible for all of our Dailies tools and software to ingest versions into our databases for review and playback.
What has been your favorite film or show to work on and why?
My favorite project to work on was Maleficent where I had to rebuild our audio and video playback system to sync up correctly. More recently I've enjoyed being involved in WandaVision and seeing the variety of content we are now making here at Marvel Studios.
How did you first learn about open source software?
I had always been aware of open source software, but I didn't start to become curious about it until I joined an organization called Write Speak Code, where they sought to get more women involved in contributing to open source projects.
What do you like about open source software? What do you dislike?
I think it gives a variety of unique and creative perspectives that you may never be exposed to on the job. Although, since it is all virtual, it feels more disconnected and harder to communicate and collaborate.
In your experience, what has been the biggest barrier to entry for participating in an open source project?
Truthfully, I think it's being made aware of what I can contribute to. There was never really anything that sparked my interest to contribute to in my spare time. It can also just be visibility and exposure to what's out there.
How do you think we can encourage more diverse talent to participate in open source communities?
Create more organizations and communities to "contribute" together. Basically, creating a support system to fall back on when there is self-doubt or needing advice on really where to get started!
What advice would you offer other developers or software engineers just getting started?
Try to contribute to projects that you're passionate about. The more you contribute, the more comfortable you'll become.
Is there something you wish you had known earlier in your career that would have helped with your professional development? Or, are there resources you wished you could have had access to?
I personally wish I had more female leaders to look up to earlier in my career, and I had to look really hard for them. A generational thing more than anything else. I wish I had known more Women in Technology groups earlier on for the community and support. For me, since they were few and far between, I ended up founding a lot myself .
What do you think is the biggest challenge facing open source developers/projects across the industry?
The demands of each studio or production are vastly different. Defining centralized and common production needs to then establish a standardized ecosystem. Also, getting the buy in from shared 3 rd party software vendors to agree on the same standards.
How do you think the Academy Software Foundation can help solve that challenge?
Creating a committee with representation across studios (VFX and animation) along with software vendors. Also, bringing in voices from a variety of levels and experiences.
What do you like to do in your free time?
Running and gardening are my zen but I have also taken on roller skating recently and have started a podcast with some friends coincidentally about Ladies in Production!