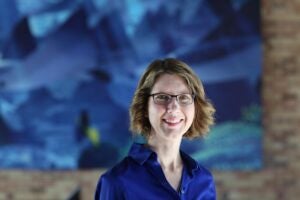 Susan Salituro
Engineering Manager, RenderMan Studio Support
Pixar Animation Studios
Tell us a bit about yourself – how did you get your start in visual effects and/or animation?
Although I went to SIGGRAPH as a student volunteer my last two summers in college and enjoyed it immensely, I didn't pursue a career in that industry. Instead, I gravitated toward Silicon Valley and worked for a variety of traditional software companies, honing my skills as a technical writer (my first career out of college). However, I'd been a fan of Pixar for years, so when an API tech writer position at Pixar opened up in 2005, I jumped at the opportunity, becoming the first tech writer on the Presto animation system (used on every movie since Brave). Little did I know that this would eventually lead to a build engineering role — the fact that I was spending much of my time writing Python scripts to create documentation did not go unnoticed.
What is your current role?
After a 5-year stint leading the build and release engineering team, supporting a centralized release process for software development teams throughout the studio, I recently became an Engineering Manager with Pixar's RenderMan team, leading the effort to support our renderer for Pixar's production teams. It's been an amazing learning process, and I'm getting a whole new perspective on the artist experience.
What has been your favorite film or show to work on and why?
Although I joined Pixar during Ratatouille production (still one of my favorite films), the first film I had a direct connection with was Brave. Because that team was the first to adopt the Presto animation system, we got to work very closely with them to tailor the product, the documentation, and even the build system to their needs. It was my first chance to really interact with artists directly and understand the challenges they had on that film (hair, vegetation, cloth). Plus I just love the movie – Merida is such a vibrant personality, and I always wanted curly red hair.
Which open source projects do you currently use or contribute to?
My first experiences with open source software were really Python and Qt (the GUI framework). Python in particular has a strong and increasingly diverse community around it, including astronomers, knitters, data scientists, and visual effects artists. I'm also loosely involved in Pixar's open source projects, having helped with the effort to get USD out to the open source community on GitHub. And of course, we at Pixar use ASWF open source projects like OpenColorIO and Open Shading Language every day.
What do you think is the biggest challenge facing open source developers/projects across the industry?
My most direct involvement with the ASWF is via the Diversity and Inclusion working group. I think the biggest challenge facing the ASWF, and open source projects in general, is creating a community around those projects that represents different life experiences and points of view.
How do you think we can encourage more diverse talent to participate in open source communities?
Not knowing where to start, or how to ask questions, or even whether it's safe to ask questions. As a whole, open source communities can reduce these barriers to entry by finding new ways to introduce users to their projects.
For example, PyCon, and its associated area conferences like PyBay, are some of the most inclusive and welcoming tech conferences I've been to. One of the great things they do is set aside an entire day for an open source contribution workshop, where various projects prepare lists of issues that newcomers can work on, and you can get one-on-one guidance from project leaders on how to claim an issue and make a pull request. Individually, projects can document their contribution process clearly and label issues that are easier for newcomers to take on without knowing the project in-depth, like documentation fixes or adding tests.
Most importantly, people need to see that it's safe to be a newcomer in the project, and to ask "stupid" questions. We can signal that by clearly communicating and enforcing our standards for conduct in our forums and issue comments, by creating clear and inclusive policies for the language we use in our code and documentation, and by community leaders setting an example by asking questions, not just providing answers. I hope that the Diversity and Inclusion working group can help ASWF projects move toward this welcoming environment.
What do you like to do in your free time?
In my free time, when I'm not fixing broken stuff around my home, I like to read, bicycle, and play the piano. I'm also learning to sing and play guitar, which is harder than it looks in Coco. 🙂