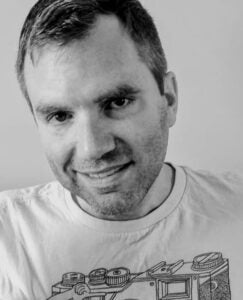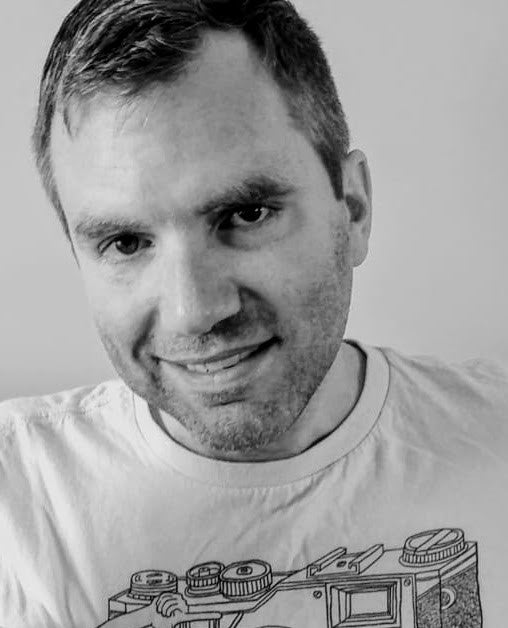 Michael Dolan
Senior Pipeline Developer, Epic Games
ASWF Technical Advisory Council Member
OpenColorIO Project Chair
Tell us a bit about yourself – how did you get your start in visual effects and/or animation?
I've been tinkering with computer graphics since I was a kid in the 80's, with a Commodore 128 and a light pen. I studied visual effects in college, and started my career as a digital artist, with a focus on compositing. While working as a compositor in the automotive visualization industry in Detroit, I started teaching myself Python to help automate tedious tasks in Nuke. Eventually the tools I was writing were benefiting the studio enough that they let me transition to writing software full time, where I led development of our compositing pipeline.
In 2015, I moved to Vancouver to work on the Sony Pictures Imageworks (SPI) compositing pipeline. I developed tools in and around Nuke at the facility level, and provided support to artists on shot work. Being surrounded by so many amazing artists and engineers dedicated to pushing their craft helped me to grow quickly. There were many opportunities to get involved in adjacent domains, so I contributed work to SPI's texture, matte paint, and lighting pipelines at various points in my career there too.
In 2018, I became SPI's color scientist, overseeing color management across the studio. That was a great learning experience since I was involved in almost every stage of the pipeline. All my prior experiences just sort of amalgamated into this role, and allowed me to tackle some really interesting science projects and work  closely with production teams.
What do you work on currently?
I currently work at Epic Games. I write software for Epic's art pipeline, specializing in surfacing, baking, and color workflows. My work contributes to the production of Epic's games and special projects, supporting a global team of artists with tools to extend and connect digital content creation software to Unreal Engine.
Epic is a really exciting place to be. Whether it's a new season of Fortnite; the latest use of virtual production for in-camera VFX; or the constant real-time advancements of Unreal Engine; there's a ton of innovation happening here every day.
What was the first film or show you ever worked on? What was your role?
The first film I worked on at Imageworks was Alice Through the Looking Glass. That was a fun project to be a part of since it was compositing heavy and SPI worked on about 1700 shots. I helped support the compositing pipeline, and enjoyed working with the show's leads and TDs to solve a variety of technical challenges. As a developer in VFX, any opportunity we find to make artist workflows more fluid, or allow them to focus more on art, is rewarding.
What has been your favorite film or show to work on and why?
My favorite film I worked on was Spider-Man: Into the Spider-Verse. That project spanned a large chunk of  my time at Imageworks and it was exciting to watch it grow from early concept into an Oscar and Golden Globe winning masterpiece. I supported the show's compositing and matte painting departments initially, and was the color scientist during the last year of production. I still get goosebumps when I watch that movie. It was a super interesting project technically, and the art and storytelling really connected with me.
What is your involvement within the Academy Software Foundation? Can you sum up your experience so far?
I am the OpenColorIO (OCIO) Technical Steering Committee (TSC) Chair, and represent the project on the Foundation's Technical Advisory Council (TAC).
My involvement with OCIO started before the project joined the ASWF. When I became SPI's color scientist, participating in OCIO was a natural fit. OpenColorIO began at Imageworks, and I had been writing production tools around it for years, so I reached out and offered to help.
At that time, OCIO version 2 (v2) had been in development less than a year. I took on some of the administrative duties so our three full-time Autodesk engineers could focus more on core development. When the ASWF was officially announced later that year, and OCIO was to be one of the first projects to apply, I was in a good position to participate with the transition. Over the first year, I helped facilitate the incubation phase of joining the ASWF. This involved active participation in the TAC and CI working group to help establish standards and work through graduation requirements for becoming an adopted project. I worked on early initiatives in collaboration with OpenVDB and OpenEXR as we standardized cloud-based CI systems, developed project governance documents, and worked through Linux Foundation Core Infrastructure Initiatives (CII) badges. You can learn more about the project's activity over the past year in this recent blog post.
This open collaboration between ASWF projects and the TAC has remained strong into year two of the ASWF, and will only grow. New projects are now able to get established more quickly, and new members are bringing added insight and opportunities to the table. It's been cool to see the Foundation evolve organically.
Where do you hope to see the Foundation in 5 years?
The ASWF has helped secure a really bright future for its projects. With community and stakeholder oversight, and open collaboration between studios, software vendors, and engineers, the foundation has made a great contribution to the future of open source software.
In five years, I'd like to see an ecosystem of projects building on the foundation that's being laid by the ASWF. I'm excited to see more companies inspired to freely share their cutting edge technology with the world, and believe the success of the ASWF will help that become a reality. Whether the Foundation adopts these projects, or just provides resources for them to succeed on their own, the energy being put forward by so many across our industry will be well worth it.
There's a sincere willingness among ASWF leadership to guide up-and-coming projects, and mentor the developers of tomorrow. That openness will help empower continued technical advancement with new talent and ideas. New contributors will also mean improved support for the critical infrastructure our projects provide to content creators. I hope to see this positive cycle of growth continue, and believe the ASWF has put the right goals in focus to achieve it.
What advice would you offer other developers or software engineers interested in getting started with the Foundation?
The vast majority of ASWF discussion is open to the public. I would encourage those interested to join tac@lists.aswf.io or a project-specific mail list, and start participating in discussions and TSC, TAC, or working group meetings. There are lots of needs across the projects and no contribution is too small. Get connected to a project, ask how you can help, and follow through on completing some tasks. Active involvement in an open source project you are passionate about is an awesome growth opportunity, and very rewarding.
Calling all developers! If you are currently involved in the Academy Software Foundation or one of our projects and would like to be featured in "Behind the Screens," please email us.